Owen Mumford turns to movemanSKG
Medical device manufacturer Owen Mumford has installed a movemanSKG Prestige A401 platform lift at its newly built factory extension in Chipping Norton near Oxford. It has glazing in all four sides of the shaft, a feature only made possible thanks to the unit's belt drive lifting mechanism. Needless to say, Prestige A401 looks outstanding in its surroundings.
Established in 1952 by Tom Owen, Ivan Owen and John Mumford, Owen Mumford is now an industry leader in the medical device market with offices, manufacturing sites and a network of distributors around the globe. Sixty years on, Owen Mumford remains a family owned business.
The firm is expanding rapidly and needed extra space to accommodate increasing business demands. Owen Mumford has made a significant investment in the construction of a new extension containing a warehouse and manufacturing area on the ground floor and offices on the first floor. Located in the entrance hall, movemanSKG's Prestige A401 travels nearly three metres between these two levels.
"The Equality Act specifies places of work must be accessible to people with disabilities but this is also a top priority at our company," says Owen Mumford's Facilities & Project Manager Paul Shrimpton. "movemanSKG came highly recommended and installed Prestige A401 quickly, seamlessly and efficiently. Wheelchair users tell me they experience a pleasant, comfortable transition between the floors of our building."
movemanSKG's Prestige A401 features a similar safety gear found on conventional lifts, providing a high level of user protection. It has a range of colours and finishes, making it suitable for almost any application, and has a generous platform size.
Prestige A401 lifts up to 13m and has a load capacity of 400kg, making it highly versatile and capable of handling tough lifting requirements.
Information
Article reference:
mm199
Date:
Aug-13
Hi-res picture
View a high resolution of the image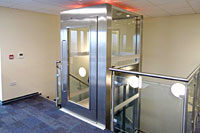 Other News Links
Previous article:
Next article: